Serengeti Balloon Safaris - the Ultimate Safari Experience!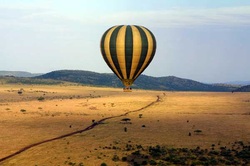 Each day at dawn over the Serengeti Plains, a fortunate few enjoy the ultimate Safari Experience. As the sun rises over the horizon so does hot air balloons and their enthralled passengers also rise.

"The view is so different from up here. Sometimes so high we can see for a hundred miles in every direction. The wildebeest migration is heading our way! Now at treetop height, we pass directly over a vultures nest in an acacia tortilis. We float silently over the river. Hippos snort and yawn . We see giraffe, waterbuck, buffalo, topi and other antelope from an entirely new perspective"
" Eventually, we land and are congratulated by the ground crew. We celebrate in the traditional manner with sparkling wine! We are served a full Continental breakfast cooked and served in the bush. Our table has been prepared under an exquisite umbrella tree. On our drive back we meet a lion family by the road. It seems as though it has all been a dream, but clutch proof, my balloon certificate! What an unforgettable experience"


Itinerary: Daily Service, pick up from client lodge or camp in Western Corridor, Central Serengeti and South (starting 25th Dec, 2012)
Time: 5.30 am and returning approximately 9.30 am thereby easily fitting in with land Safari schedules.
---