Selous Game Reserve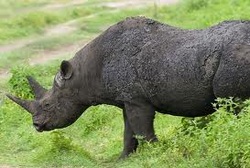 Selous is Afica's largest and wildest game reserve. The reserve covers more than 5% of Tanzania's total land area, and is three times larger than the Serengeti. Although slightly off the beaten track of the more well-worn safari circuits, a visit to the Selous offers unforgettable game viewing in almost completely isolated surroundings.
The park supports enormous numbers of wild animals: 200,000 buffaloes, 30,000 elephants (more than half the country's population) and 80,000 wildebeest, as well as one of the healthiest population of the endangered African wild dog. A successful project is under way to nurture the reserve's population of black Rhino back to health following their depletion by poachers in the 1970's and 80's and sightings are now possible in the tourist areas.
A part of the reserves modern-day area was aside as a game conservancy as far back as 1905, an area which was expanded and named (after Frederick Courtenay Selous, a 19th century hunter and soldeir) in the 1920's. Repeated sleeping sickness epidemics during during the 1930's and 1940's meant that the areas during human inhabitants moved out, leaving the Selous to the animals. Today, sleeping sickness is a thing of the distant past, but the Selous is still an uninhabited, untamed slice of old Africa, in 1982 the reserve's unique eco-system was recognized internationally and the area designated a WORLD HERITAGE SITE by the United Nations.
The greater part of the northern sector of the Selous is earmarked for photographic tourism, and is one of the most beautiful and game-rich areas in the whole eco-system. Three-quarters of the reserve is woodland of various types, short grassy plains, and seasonal flooded pans. Impressive riverine forests and dense impenetrable thickets are important habitats within the Selous. The wide meandering Rufiji River is one the largest water systems in East Africa. With its associated et lands, lakes and swamps, it is one the most oustanding ecologcal systems in the whole of East Africa.
Selous Packages - click here to view or download pdf files
---