Mt. Kilimanjaro - the roof of Africa!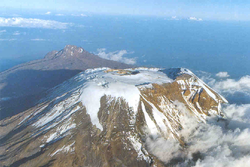 Kilimanjaro, by any name, is a metaphor for the compelling beauty of East Africa. When you see it, you understand why. Not only is this the highest peak on the Africa continent, it is also the tallest free-standing mountain in the world. Rising in breath-taking isolation from the surrounding savannah elevation around 900-metres to an imperious 5,895 metres MASL (19,336 feet). Kilimanjaro is one the world's most accessible high summits, a beacon for visitors from round the world. Most climbers reach the crater ream with little more than a walking stick, proper clothing and determination. And those who reach Uhuru point, the actual summit, Stella Point, or Gillman's Point on the leap of the crater, will have earned their climbing certificated and their memories.
---
Trekking Routes

Marangu Route -
The main tourist route and by far the most popular route and some claim the easiest route to Uhuru Peak. The 5-day option, which is available on this route, makes it the least expensive route on the mountain. A 6-day option with an extra day of acclimatisation is however also available. This is the only route, which provides comfortable sleeping huts, equipped with beds and mattresses at every campsite. Mineral water, soft drinks, beer and chocolates are also sold at every
camp. All the camps on this route have radio contact with the Park Headquarters.

Machame Route
This is probably the most scenic and most beautiful route to the summit. The 6-day route is however physically more challenging than the Marangu route. The day walks are longer and steeper, however the summit night is one hour shorter. The scenic traverse of the Western Breach offers some stunning views! Only tented accommodation available, which can be less comfortable and will require a good sleeping bag and hiking mattress.

Umbwe Route
This route is one of the shorter but also one of the more difficult routes to reach Uhuru peak--but quiet spectacular. Umbwe is known for its caves. The first night you actually sleep at the Umbwe Cave Camp with two more caves that can be visited on route the following day. Also sometimes used as a descending route.

Shira Route
The Shira Plateau is one of the most scenic and most fascinating areas on Kilimanjaro. Depending on the weather conditions you can drive by 4 wheel drive vehicles, to within a 1/2 hours walk of Shira Hut (4000m). Even this drive is very spectacular indeed and offers some magnificent views of Mt Meru and the Great Rift Valley in general. Game is often sighted and the road features some striking egetation changes ranging from forest, grassland, heath to moorland. The fast ascend by vehicle to about 4000m will require additional acclimatisation, after which it will be possible to ascend Uhuru Peak either via the Western Breach or via the Barafu hut.